Construction Projects by Samos Housing
Ground Floor Residential Apartment
Completed in 2019
2 Floor Stone Villa by the Waterfront
On going - To Be Completed 2021
2 Floor Villa with an Attic
Completed 2017
3 Villas in Kokkari
Completed 2018
2 Floor Villa with Swimming Pool
Ongoing Project to be completed 2021
2 Floor Villa in Vourliotes Samos
Completed in 2019
 The best on design and construction of Villas and Vacation Residencies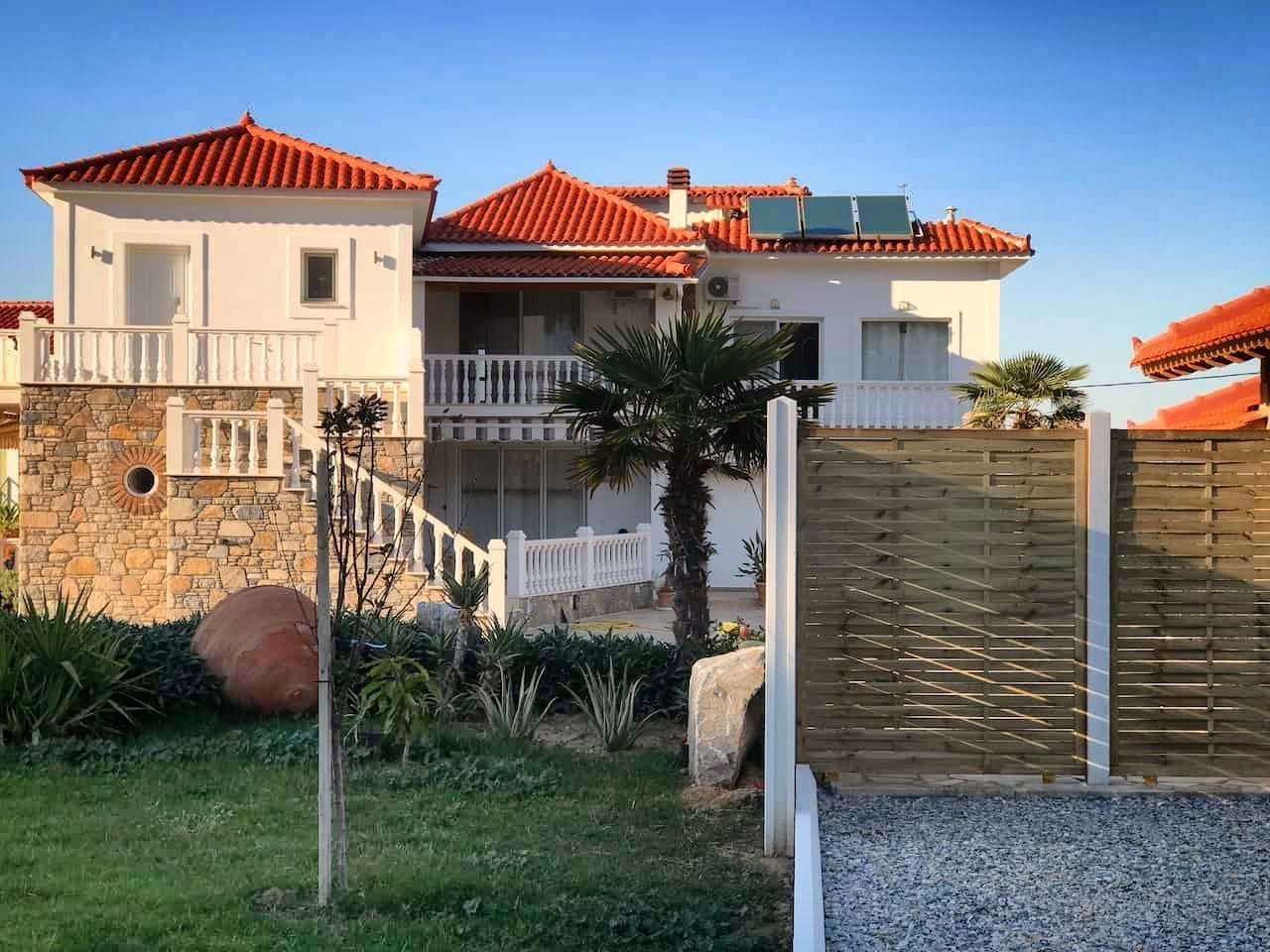 Design and build your house | Villa | Vacation Residency on the beautiful island of Samos GR
Building permits, architectural building design and engineering construction of your house or island villa, on the islands of Samos and Ikaria, as well as land and building cost evaluation and market value evaluation reports for any purposes.
Remodelling and renovation on existing houses on Samos Island.

Architectural design and engineering construction on your newly bought land or you newly bought traditional house that needs repair, renovation.
Here you will find all the essential information concerning construction on the Greek Islands.
Contact us about anything you need to know around Real Estate and constructing houses in Greece.
If you are a current resident, our expert engineers and building advisors can help you in any circumstance.
We can provide you with detailed info on what to do and to expect should you decide to build your own house.
Samos Housing undertakes the whole process of constructing your new house.
As soon as you are excited about the design plans, we undertake the whole process and deliver you a brand new house which you will call home.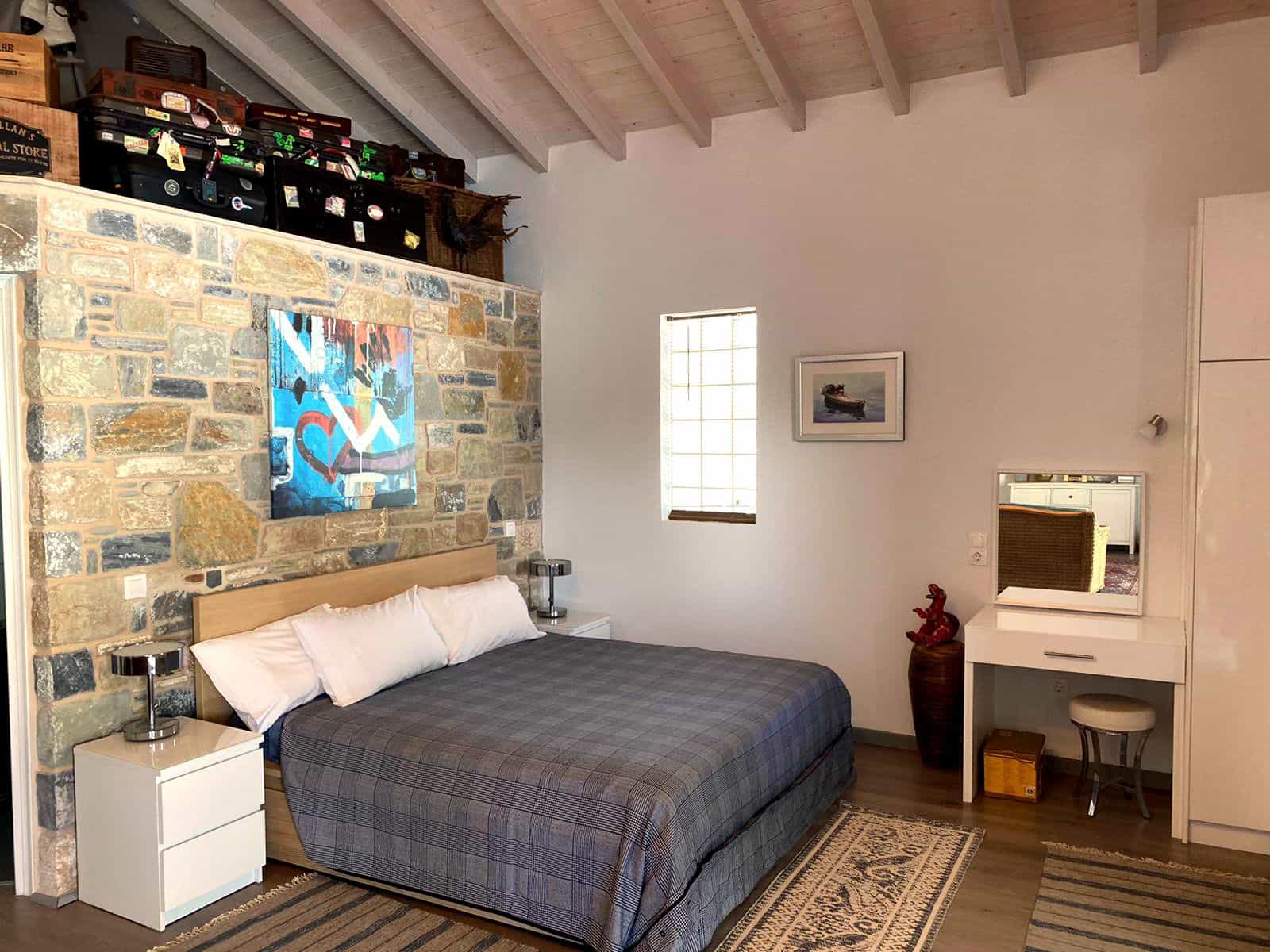 What you need to know about building construction on Samos Greece
"I want to have an 'Eat, Pray, Love' experience where I drop off the face of the planet and move to Greece"
General Guidelines on Town and Village Plots
•In Samos there are many planning zones called (oikismoi), which are mostly villages or areas right next to
Samos Town, Karlovasi and Pythagoreion.
On a piece of land in that planning zone you are able to build up to 240 m2 or 2.583,34 ft2 or on some villages like Ano vathi 400 m2 or 4305 ft2 of housing. These are the most common scenarios on plots in Villages .
However, if the land is larger than 2000 m2 or 21527 ft2, in most cases,then you will be able to divide the land and build even more housing facilities say, up to 800 m2 or 8611 ft2. If the land of your choice is within the limits of Samos Town, Karlovasi or Pythagoreion the maximum allowed construction is considerably more.
If the land of your choice is very small say a 100 m2 or 1076 ft2, then the maximum allowed construction depends on construction coefficient ie Building Allowance (Sidelestis Domisis) and on the maximum allowed Building Footprint (Sidelestis Kalipsis), which varies depending on the case (usually 60-70% of the total plot area for town or village plots and 10% for agricultural plots). 
Our office is able to tell you exactly what your options are in any given case.
Furthermore, In the Ancient Samos area (Pythagoreion and Ireon of Samos), you have to be extra careful because most plots have to get a certificate by the archaeological department that there are no underlying ancient antiquities present. So if you decide to buy in those places, the land has to be officially approved as non-archaeological site.
Real Estate Prices have to be also straightforward.
Also, bear in mind that contract fees, tax fees and general expenses may increase total cost up to 11-12% of initial sale price and in most cases are covered by the buyer unless there is a different agreement between the two parties.
Last but not least you will always need an engineer. 
If you decide to buy land, house, or even renovate an old house you will always need a certified engineer by the Technical Chamber of Greece (TEE). 
Engineer Prices are set by the Technical Chamber of Greece. We charge according to the price list set by the Technical Chamber of Greece. 
Our office undertakes the whole process of designing and building your new house, with top quality construction and straightforward process so at every stage you know exactly the procedures and most importantly what you are spending and why.
There are many other aspects that require specific attention and expertise.
Our Company expertises on undertaking a construction project from start to finish.
Who Can Buy a plot and Build a Villa?
By Law any non-Greek citizen can build or buy a house in Greece.
For EU citizens things are very simple. You jut need a Greek tax number which is obtained with a valid EU Passport and a Greek Bank Account. 
For non EU Citizens things are more complicated. You need to pick the property you wish and go through a committee that examines your request. However, if you spend more than 250,000€ you are eligible for a Golden Visa
To buy land in Samos and Greece in general you have to pay attention to a few important aspects.
General Guidelines on Rural Plots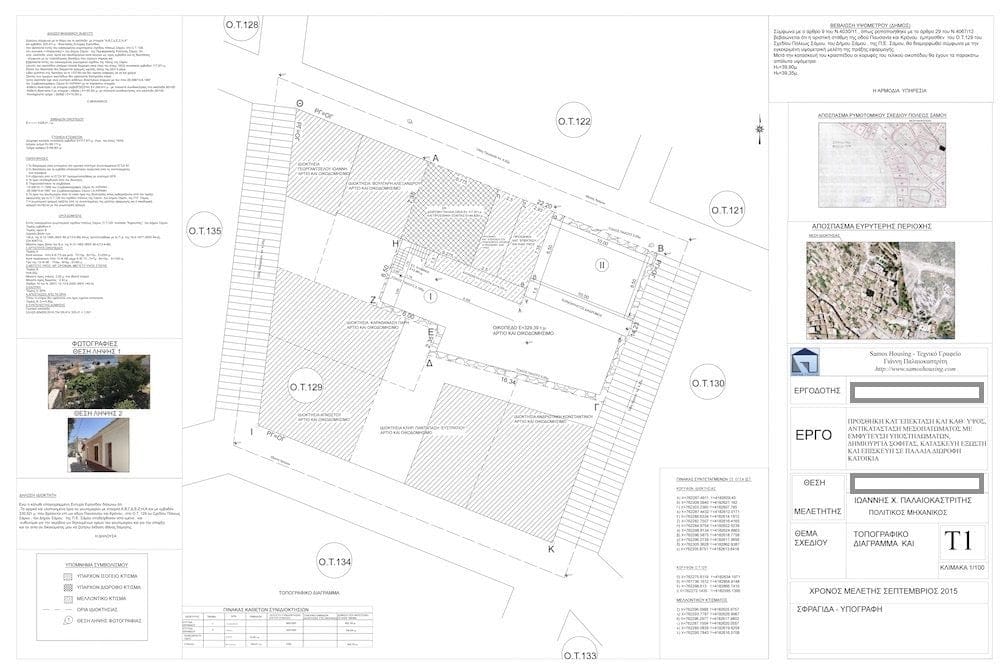 •Get a certificate with a new or recent survey plan with GPS coordinates from an Engineer that the land of your choice is buildable.
 For Pricing to do the Survey through us please check The Surveys page
•That in your newly bought land, a future building can be connected with the electricity, and water mains.
It's good practice to make sure that internet connection is also available in that area.
In addition, those basic needs are somehow guaranteed if the land of your choice is within a town planning zone.
Complications may occur if the land of your choice is outside the town planning zone on a rural area.
For construction outside town planning it is essential that the plot has already a forest department classification (telesiikia) as an agricultural land or non forest land. It is very common that some rural plots have both forest areas and agricultural segments. 
The general rule is that the agricultural area has to be big enough to have the required distance from the boundaries of 15m and 10m from the forest areas within the plot, if any.
Furthermore, Rural areas on Samos by law, is divided into zones.
If and to what extend, you are able to build, is depending on which zone your land is.
For example in zone H you are able to build 200 m2 or 2152 ft2of housing
if the area of your land is 4000 m2/43055 ft2 or greater.
Whereas on zone E for example, you can only build up to 20m2 of agricultural storage facility.
That is why you have to be extra careful for the regulations of the land you want to buy
does not contain segments which are considered forest areas by the forrest administration of Greece.
Our company can guarantee you that the land should you choose to buy, is within those specifications, and therefore a building can be constructed.
What are the Construction Phases?
The key stages for construction Samos are:
-Pick a favourite spot to build your house
-Land Survey
-Preliminary Housing Proposal
-Final Drafting
-Building Permit Process and Architectural Committe Approval
-Construction Phase (2 Building inspections – One initial and one Final)
-Your New Home is Ready!
Typical completion process from start to finish 8-12 months
Prices for building construction, comprise of the following:
Planning, surveying and building Permit Fees
Excavations
Labour fees and materials costs
Labour Social Security (IKA)
Management Fees
VAT
Typical Baseline Value for New House or Villa Construction – on a flat terrain 1350€/m2 plus VAT
We Are Here To Help You With Any Questions You May Have